ForeverSafe Products
Unfortunately, cemetery theft is a growing segment of crime plaguing communities all across the globe. A few years ago, Granger Plastics Company was approached by approached by a number of leading cemeteries and funeral homes in effort to come up with a theft deterrent solution to assist in the theft of cemetery flower vases and burial urns. As hard times and various socio-economic issues haunt these areas, this has only increased the cemetery theft, as they are easy, soft targets with little to no security. As tasteless of a crime as possible, stealing from the funeral homes, cemeteries and crematories impacts both the businesses and the families of the deceased. In some cities, some thieves have even stolen burial urns with the cremains still inside the urn, while others have stolen dozens or hundreds of cemetery flower vases. These issues and the growing demand from some of the industry's most respected names helped Granger Plastics makes the decision and take action to develop ForeverSafe Products.
Granger Plastics Company designed, developed and now manufactures a proprietary line of theft deterrent cemetery products including burial urns, cremation urns, cemetery flower vases, replacement vases and even a multi-purpose occasional vase. These products feature beautiful colors that mimic real granite and metallic finishes while keeping their theft deterrent qualities being rotationally molded from polyethylene, not precious metals or granite, which is commonly stolen by thieves all across. Learn more about ForeverSafe Products, a division of Granger Industries by clicking on any of the links below:
ForeverSafe Cemetery Flower Vases
The marker of a grave site is sacred ground and a place many memories are shared. Losing a loved one is hard enough, but the added loss of a cemetery flower vase can be devastating and costly for a family to replace, while rehashing the loss of a loved one all over again. Cemetery Vases manufactured from precious metals allows the vases and other metallic based products to become vulnerable for thieves to steal and sell off as scrap metal. Thieves are stealing the vases by the hundreds from cemeteries in almost every city across the globe. The ForeverSafe™ Cemetery Vase is a beautiful alternative to susceptible metal counterparts.

| | |
| --- | --- |
| Round Burial Urn Bottom | Recentangle Urn Bottom |
All Cemetery Vases available with matching Water Tight Urns
Replacement Cemetery Vases
Has a cemetery flower vase been stolen from a loved one's memorial or grave site? Cemetery Theft is one of the fastest growing segments of petty and tasteless crimes that continues to plague communities all across. ForeverSafe has developed a line of theft deterrent vases molded from an extremely durable polymer, polyethylene which is provides a beautiful, durable cemetery vase option that is virtually worthless to cemetery thieves who are looking for metals to scrap in exchange for cash. The ForeverSafe line of replacement cemetery vases are offered with a number of different adapter plates to fit most manufacturers cemetery vase canisters, headstones, markers and memorials.
Produced from the highest quality Polyethylene materials
1/4" wall thickness
Available with many effects including life-like granite &, metallics
Plastic material deters cemetery vase from theft unlike metal counterparts
Impervious to weather conditions
Value added savings in comparison to precious metal counterparts!
The ForeverSafe Occasional Vase Collection is a line of staked vases that offer durability as well as beauty, while providing a reusable cemetery flower vase that is designed for a number of uses. The ForeverSafe Occasional Vase is ideal for individuals looking for a product that is simple and inexpensive for their loved ones memorial! No digging holes required, simply screw in the metal stake and insert in the ground.
ForeverSafe™ Occasional Vase Features
Vase able to stand alone in service
Can be used with the stake graveside
Immediate solution to a vase need
Allows for a neat uniform look in cemetery
Stake easily assembled
Impervious to the elements
Reusable
Available in many colors
| | |
| --- | --- |
| | Assembly of the Occasional Vase. The Cemetery vase that does not require a cannister. |
Cemetery Vase versus Weed Eater
Typically after having a poor experience with those cheap, temporary and disposable green cemetery flower vases, people will ask "how durable is the cemetery vase against the cemetery's maintenance equipment, such as a string trimmer? Watch in the video below as you will see a weed eater intentionally beating string against a ForeverSafe cemetery vase. Virtually no damage to the vase!
Cemetery Vase Information
For more information on the ForeverSafe™ Cemetery Flower Vases: Click Below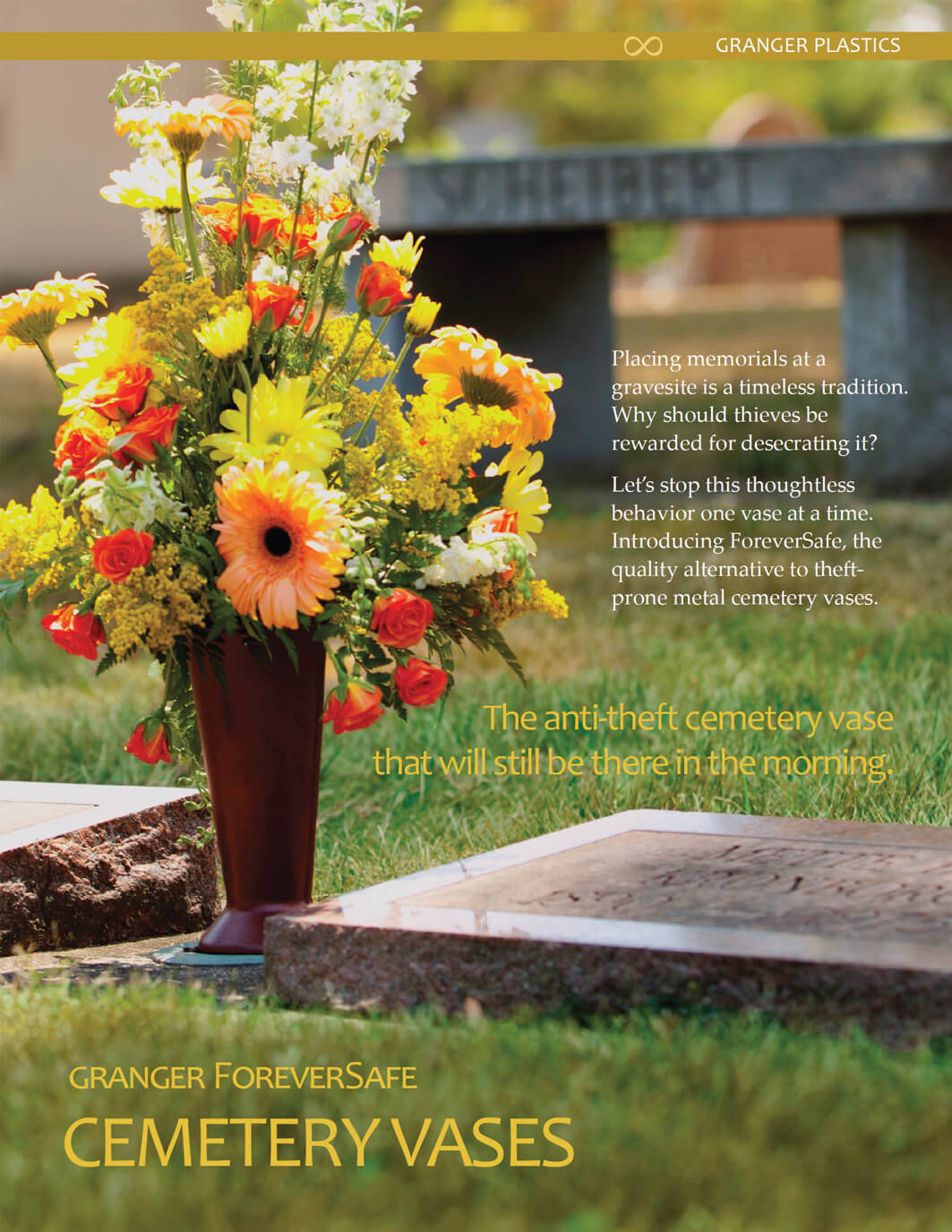 Learn more about ForeverSafe Cemetery Vases by clicking here
ForeverSafe Burial & Cremation Urns
Produced from the highest quality Polyethylene material
1/4" wall thickness
Available with many effects including life-like granite, metallic and pearlescents
Includes 8 molded in threaded inserts and stainless steel security screws
Includes neoprene gasket and anodized aluminum plate
Waterproof (please see video demonstration below)
Plastic material deters urn from theft unlike metal counterparts
May be used to for housing cremains and for burial without additional vault
231 lb. healthy weight capacity
See how the ForeverSafe Products Cremation Urns are the leading Water Tight Urns amongst the memorial products industry!
Urn Load Testing Video
Watch in the video below as Granger Plastics Company sits a forklift directly on top of the Urn without crushing or damaging the product. This test was in effort to simulate the Urns ability to handle large equipment that may potentially drive directly over top of a memorial in a cemetery setting. See how the Urn takes the weight without damage!
ForeverSafe Urn Image Gallery
| | | | |
| --- | --- | --- | --- |
| White Granite Urn & Vase Canister Set | Terra Cotta Granite Urn & Vase Set | Mahogany Urn & Vase Set | Black Granite Urn & Vase Set |
| Grey Granite Urn & Vase Set | Brown Granite Urn & Vase Set | Antiqued Urn & Vase Set | Bronze Urn & Vase Set |
For more information on the ForeverSafe™ Burial Urns: Click Below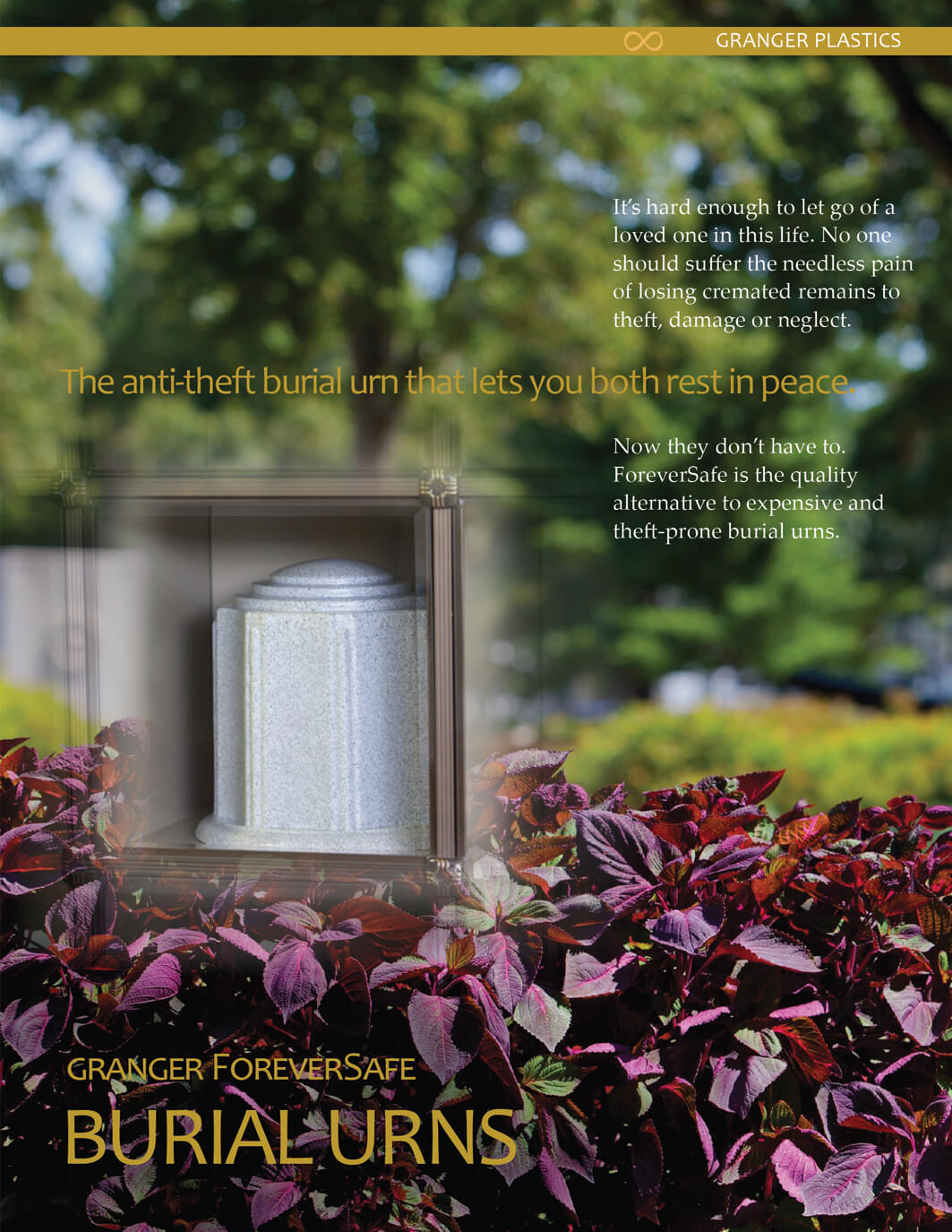 For more information on Burial Urns click here