Urns
Death is like a thief that will come into our lives when we least expect it. No matter how science and technology wish to prolong the life of the human being through food supplements, vitamins, dieting, etc., man still dies and wither in the course of time. Hence, we intend to value the remains of our loved ones whenever death arrives. Either we bury it or through cremation, having in mind that even if they have departed from this world we will be able to preserve the memory that we have with them. One way of preserving the remains of our loved ones today is through cremation. Unfortunately, cemetery theft is a crime that is rapidly increasing throughout the World. News broadcasts ranging from simple theft of cemetery vases and various other memorials and relics produced from precious metals seems to be virtually a regular event anymore. Due to the increase in cemetery theft and rising costs, ForeverSafe Products decided to make a beautiful and affordable product that could get your memories bounded and secured forever – the ForeverSafe™ Cremation & Burial Urn.
ForeverSafe™ Cremation & Burial Urns, offers a security for your loved one without having to sacrifice beauty. In fact, ForeverSafe™ beautiful custom proprietary finishes match and blend well with many common headstones and memorials. Our granite-like finish come in several colors, such as grey granite and terra cotta granite options, while the others contain a metallic like effect, such as our Antiqued and Mahogany, the ForeverSafe™ Urn is sure to please a customer's expectations.
Currently, the urns are available in (2) different shapes, while offering a number of color options, along with stone-like granite looks, or even metallic. The Urns also feature stainless steel screws (security screws available), molded in brass inserts and an anodized aluminum security plate, that when in conjunction with the neoprene gasket, allows the Urns to be water tight!
Water Tight burial Urns
Strength in life is a cherished quality. If a strong shape for remembrance is suitable for someone you love, the ForeverSafe™ Rectangle Burial Urns will be as strong on the outside as it is on the inside. Polyethylene is relied on to make products that are exposed to destructive elements. There is value in knowing that the burial urn protecting your loved one is protected by that same durability. Protect the one who protected you. Be strong with ForeverSafe™.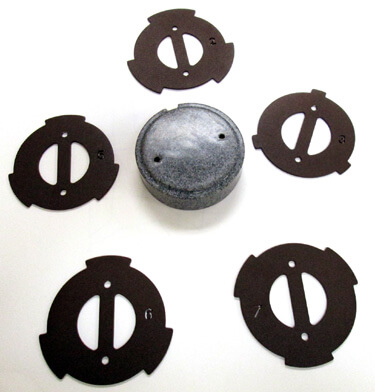 Bases for Replacement Cemetery Vases to fit most manufacturers.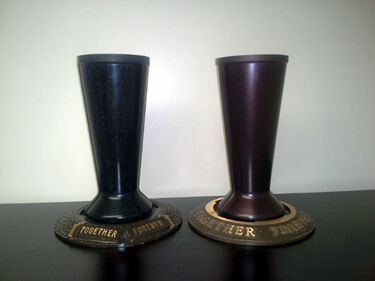 Replacement Cemetery Vases to fit most manufacturers and memorials.
The Rectangle Burial Urn offers a strong silhouette with a classic design. The flat surfaces display the beauty of the finish and the shape is easily decorated for memorial. The security on the inside is represented in the vault like shape. No need to fear anything getting in or out thanks to the ForeverSafe™ anodized aluminum plate and stainless steel security screws. ForeverSafe™ Burial Urns are water tight and able to be buried without an additional container. With ForeverSafe™ Burial Urns, you know that your loved ones resting place is safe and secure.
Cremation Urn & Burial Urn Features
•Produced from the highest quality Polyethylene material
•1/4" wall thickness
•Available with many effects including life-like granite, metallic and pearlescent
•Includes 8 molded in threaded inserts and stainless steel security screws
•Includes neoprene gasket and anodized aluminum plate
•Waterproof (please see video demonstration below)
•Plastic material deters urn from theft unlike metal counterparts
•May be used to for housing cremains and for burial without additional vault
•231 lb healthy weight capacity
| | |
| --- | --- |
| ForeverSafe Occasional Vase | ForeverSafe Occasional Vase Assembeled |
Click on any of the Thumbnail images below to see the large view open
ForeverSafe™ Burial Urn Colors
Order Burial Urn Online
For more information on ForeverSafe Burial Urns: Click Below