Every product produced via the rotational molding process requires a mold, or a tool.
Once the rotational molding design process is complete, the next integral step to going into production is for a mold or tool for rotational molding to be completed. It is critical that the molds be designed accurately and completely for the process in effort to keep the process efficient and on track. While molds can be fabricated, cast or even machined, sometimes the time table for the project will dictate which process is used to create the tooling if there is time constraints surrounding the project. Mold costs are typically the determining factor of the project, which will dictate the selection of the mold manufacturing process. Also finding a rotational molding supplier that operates an in-house mold or metals shop is integral to the success of most rotational molding customers, as they can build, modify or repair molds in house, eliminating down time for repairs, transit, etc.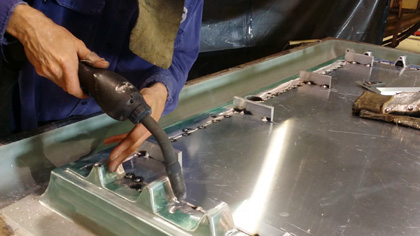 Because of the heating and cooling cycles experienced by molds in the rotational molding process, it is common for the molds to experience some typical wear and tear. These common occurrences can usually be fixed in a short period of time if a rotomolding supplier has an in-house mold or metals shop that is capable of providing such service. If not, the molds will not only have to be pulled out of production, they will require additional lead time as they will have to be shipped to a vendor for repairs. The savings and efficiencies that can be gained by a rotomolding leader that repairs or modifies tooling in house is insurmountable. Because of the constant heating and cooling of the molds or tooling in the rotomolding process, many molders will suggest Aluminum as the preferred material for mold construction as it wears better than steel, eliminates rusting concerns that plague carbon steel materials and offers superior heat transfer properties over steel.
Quality is a necessary staple of any and all rotational molding molds. If the mold is poorly designed or poorly built, there's a good chance it will produce poor quality products. Some molders will 'skimp' on quality in various different means. Incomplete welds, poorly blasted surfaces, using vice grips or nuts and bolts to secure the molds closed are all tell-tale signs of molds that have been poorly designed or built. As an example, some mold vendors will select to use very cheap clamps or even nuts and bolts to secure a mold closed because some of the "higher end" clamps have a little bit more cost. However, it is extremely RARE to replace some of the higher end clamps as they require less maintenance and withstand the rotational molding process much better and operate efficiently and safely during production for the machine operators. If Granger Plastics builds your molds for rotomolding or oversee's the production of your tooling at an outside vendor, Granger will maintain that tooling for free as long as Granger is the producing rotomolding supplier for the project.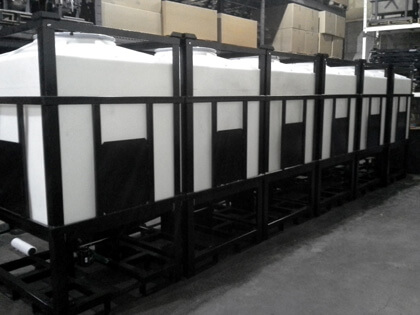 The Granger Plastics Metals shop produces metal fabrications to perfectly compliment many of the rotationally molded innovations and solutions produced by Granger for leading OEMs and manufacturers. Steel Racks, Aluminum weldments, mounting plates, bases and so much more! The metals shop at Granger Plastics Company produces some of the highest quality complimentary metal fabrications required for the rotational molding industry!
Building molds and tooling for the rotomolding process requires experience and expertise. Going at it alone can cost valuable time and money. Work with a true internationally recognized rotational molding leader in Granger Plastics. Learn more at http://www.grangerplastics.com